KAZAKHSTAN'S CATTLE CALL By BRETT TINDAL – The Land, thurs Aug 8 2013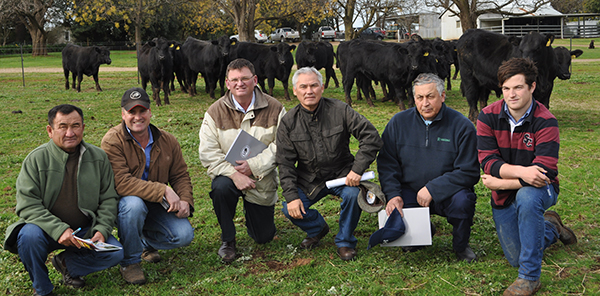 THE growing demand to feed the world is not just about available land, growing more crops or even the processed products we export around the world.
The big opportunity in the beef cattle industry is to supply animals and genetics to developing and rebuilding countries backed by their governments to secure food sustainability in their country.
This is the latest addition to selling and marketing cattle in Australia, with countries like Russia and Kazakhstan leading the rest of the world in sourcing Australian cattle to rebuild their depleted beef cattle industries to sure-up food in their countries.
A seven-day trip by two Kazakhstan veterinarians and a professor to finalise an order of 1100 predominantly Angus heifers and several Angus bulls was recently organised by Wellards Rural Exports, Melbourne, with 85 per cent of the cattle sourced and organised from clients of Australian Top Stock.
The three Kazakhstan visitors were led by Professor and Doctor of biological studies at the Kazakhstan National Agricultural University, Argibay Smaryaob.
Irelands Angus stud principal Corey Ireland said they sourced five bulls and 60 autumn-drop heifers from the stud for the current order.
The tour included several properties in Southern NSW – Irelands, Alpine, Ardrossan and Bongongo Angus studs.
Mr Smaryaob works for the Kazakhstan government helping to source and secure beef cattle from Australia, Canada and the US to develop a display farm with cattle from all over the world. READ MORE  >>

IRELAND'S Angus have set a new Australian record for an Angus bull, selling two-year-old Irelands Galaxy G43 (AI) for $117,500.
Fiona Myers |  March 22, 2013 |The Weekly Times Online
After a starting bid of $10,000, the bidding quickly moved to $50,000 and then $100,000, before selling to Sam Trovatello of Adameluca Angus stud near Kyneton for the top money.
It was a highlight in the catalogue of bulls where all 49 Angus bulls offered sold for an average of $7071 – only slightly back on the $7209 for 32 bulls at last year's sale.
Mr Trovatello said the main reason he bought the bull was because of his "amazing phenotype".
"He has excellent feet, good bone and has the figures too."
Sired by Irelands Deltroit D2, the bull had an estimated breeding value 600-day weight of +107, well above the breed average of +92, and an eye-muscle area of +5.6, also above the breed average of +3.8.
Starting his Angus stud just last year Mr Trovatello said he will use the bull over all of his 100 breeding cows.
Mr Trovatello said he thought he would have to pay $70,000 but "once you're on the dance floor you've got to dance."
Ireland's stud principal Corey Ireland was still in shock when The Weekly Times spoke to him after the sale.
"I'm not sure what to say about the top price."
Mr Ireland said he was really excited about the direction the stud was heading.
Bulls went to buyers from across Victoria and NSW.