Commercial buyers clinch Irelands clearance
By BRETT TINDAL
A STRONG commercial presence at Corey and Prue Ireland's annual Irelands Angus Autumn bull sale at Wagga Wagga last week helped to cement a 100 per cent clearance of the 47 bulls offered.
In a year when clearance rates have been up and down across the Eastern seaboard, a total clearance of 47 Angus bulls to a top of $10,500 to average $4766, was a solid achievement in the current bull selling environment.
Irelands Angus stud principal Corey Ireland put the result down to a few new clients that bought on the day and a big presence from buyers from the mountain calf areas of Omeo and Benambra.
"I have been selling bulls to a few of the mountain calf guys for a few years now and this year was the first year they had calves go through the weaner sales and top the sales for a few clients."
"There was a few people up at those sales that saw what our cattle can do, so they came to the sale and ended up buying on the day, which was fantastic," he said.
Mr Ireland said the interest off the back of the results at the mountain calf sales helped to set up his sale, along with the 68 registered buyers on the day, where 29 individual buyers took home their genetics from the 47 lots offered.
The top bull Irelands Hoff H362, was snapped up by long time clients Greg and Phillip Hughes, Four O Eight Angus, Macksville, for $10,500.
He was a soft easy doing son of Rennylea Edmund and by a high performing dam in Irelands Vicky Z15, who had produced sons to $16,000 and $20,000.
Greg Hughes said he was perfectly suited to their environment on the coast, added extra punch for them as an outcross sire with the Edmund background and he loved the maternal lines going back to the Vicky family.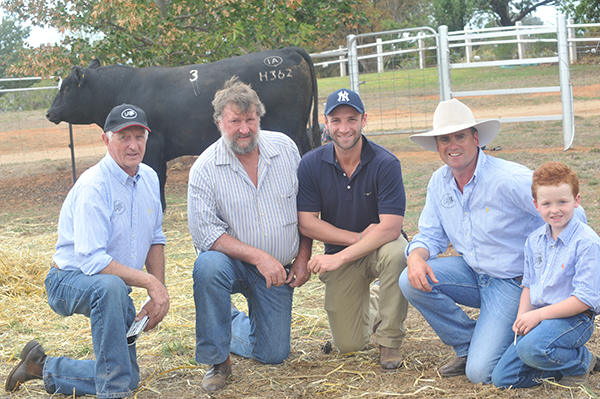 Hoff was +3.5 for birth weight, +104 for 600 day growth, positive for rib and rump, with +4.7 for eye muscle area and +3.7 intra muscular fat percentage.
Landmark agent Peter Godbolt, Albury, secured Irelands Hidden H446, a stylish young 18 month old calf by Raff Dynamite for $10,000 for Quaterway  Angus stud, Scottsdale, Tasmania.
He was marked as a true stud sire potential in the sale from the Irelands Eclypta family, with a solid balance of figures to +111 for 600 day growth, +3.9 EMA and +1.7 IMF, with a +5.3 birth weight.
David Hurley and his daughter Diana, Hurley Family Partnership, Dargo, Victoria, again settled into their job, securing the $9000, two year old son of Irelands Eldorado, Irelands Hamster H95, to run with the several other Irelands bulls they had bought over the past few years.
The Hurley's were part of the mountain calf contingent that came to the sale which saw all five buyers from the high country take home at least one new sire.
Louis and Sharon Pendergast, "Delvin Downs", Benambra, Vic, are one of the biggest weaner calf sellers in the high country, selling 500 Angus and 500 Hereford calves a year at the mountain calf sales, bought four strong commercial bulls averaging $3313.
Mr Pendergast said he was looking to go to a 75pc Angus and 25pc Hereford split in his herd, by stepping up his Angus numbers, after his Angus weaners made to $700 at the recent sales.
"I was chasing bulls with a fair bit of frame, and bulls that will grow into a bull with size and good top lines," he said.
John Ross, trading as CJ Pendergast and Company, "Omeo Station", Benambra, is following suit with his 800 cow herd, aiming to push his herd to 75pc Angus through the use of Irelands bulls.
Mr Ross said the Irelands bulls put enormous top lines on his cattle and the frame and mature bull sire were the reasons he purchased two bulls.
Earlier that day the Ireland family ran a 400 head commercial Angus female sale, including females from their commercial operation, along with females from their clients.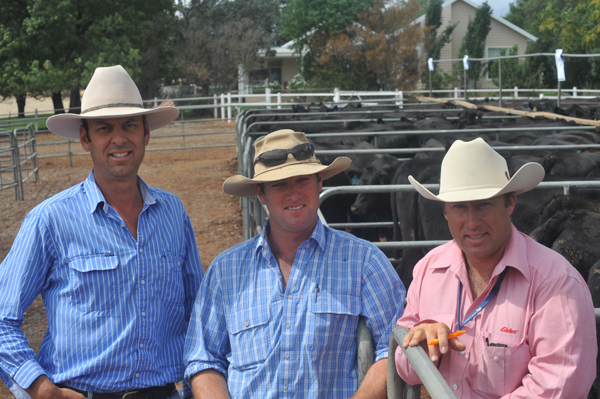 The 400 commercial females drew sporadic competition as buyers continued to look to the skies for rain, but the top lines of three to six year 0old PTIC Angus cows joined to Irelands bulls topped the sale at $1160.
Angus Ward, "Ulladulla", Holbrook, with his agent Tim Wright, Elders Holbrook, set to work buying a large percentage of the draft securing 114 mixed age PTIC females to a top of $990.
Mr Ward runs 800 cows, producing steers for the feedlots and has recently sold some cast for age cows and was looking to replenish numbers with some high quality young productive females.
KJ and GJ Connley, Omeo, paid to $6000 for two bulls averaging $4500, Mitchell Investments, Oaks, Tas,bought two top bulls for $7500 and $5500, while Mount Hugel Partnership, "Burnside", Grahamstown,  averaged three at $3333 and Glengarry Pastoral, "Glengarry", Sandigo, bought two at $7000.
Rounding out the sale Richard Wilton, "Nioka", Holbrook, bought three bulls for $3417 after securing a pen of commercial Angus females earlier that day in the commercial sale.
The sale was conducted by Elders and Landmark with Joe Wilks and Kevin Norris as the auctioneers.