IRELANDS SPRING SALE
The Irelands team would like to thank all bidders and underbidders at the September Spring Bull Sale on Friday 11 September. Top price bull was Irelands Kelleher K34, who sold to a top of $28,000 to Bill and Shauna Graham, Bonbongo Angus, Coolac NSW. Special mention to volume buyers Peter Richards Alpine Maintenance, Swifts Creek buying four bulls and and Ian and Pammie McLennan, Goulburn NSW for the purchase of 3 bulls. 40 out of 48 lots sold to average $7013 with the remaining lots selling immediately at the completion of the sale.
Pictured: (L) Lot 3 with Corey Ireland and Jim Bruce and (T-R) Willie Milne, Peter Richards and Corey Ireland (B-R) Willie Milne, Tony Dowe, Pammie & Ian McLennan and Corey Ireland.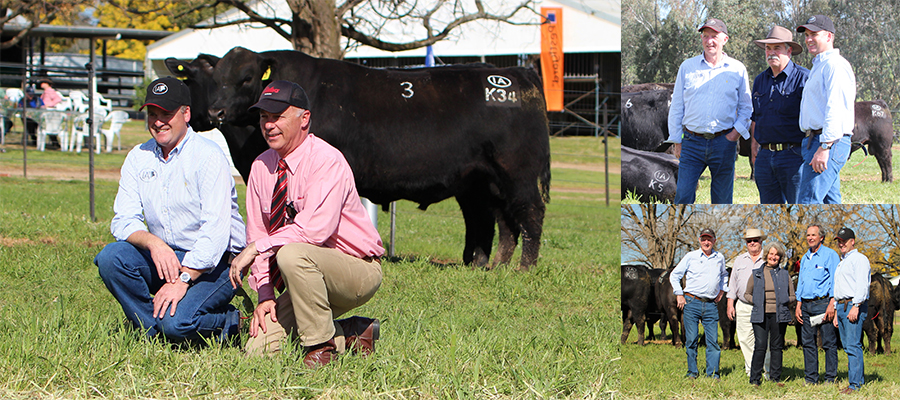 IRELANDS SPRING SALE

Irelands Presale video preview
Click here to view Irelands Spring Pre-sale Flyer

Want more information?
Corey & Prue Ireland 
 "Ivydell" Palmers Rd, Kyeamba NSW 2650
P 0269 281 560 M 0409 182 884
Willie Milne M | 0428 793 521
Preview of selected lot images

Irelands Angus Lots – RAS Sydney Show Angus Sale 2015
RAS Sale catalogue – click here
We would like to thank all buyers and underbidders for the Irelands lots at this years RAS Sydney Show Angus Sale.
Congratulations to Kerringa Angus, South Australia, on the successful purchase of Lot 53, Irelands Rosebud J375, for the sale top price of $22,500 and Lot 45, Irelands Lass H245 for $14,000. Also thanks to John Sultana for the purchase of Irelands Bunyip J338 for $4000.
IRELANDS 2015 AUTUMN BULL SALE – Pre-sale Video
VIEW COMMERCIAL FEMALE INFORMATION!  Click here
CATALOUGE NOW AVAILABLE! Click here (2.8Mb PDF)
IRELANDS 2015 AUTUMN BULL SALE – lot preview
Download Pre Sale flyer now | PDF 329Kb
Join us for a cuppa and a chat on Tuesday 27 Of Jan (Day 1 of Beek Week) and a look through the 2015 Autumn sale bulls.