2013 SalesIrelands Female Sale Highlights / Reports and Media
Irelands matrons to $25,000
By BRETT TINDAL  | The Land | Thursday Oct 24, 2013
IRELANDS Angus followed on from a stella 18 months of outstanding bull sale results, to offer high performing Angus females from the heart of their herd in their inaugural on property Angus female sale.
The interest in the Irelands female herd and opportunity to snare some of their core breeding cows and yearling heifers was met by a strong gallery of buyers from established studs, to those just kicking their breeding careers, through to discerning stud breeders looking to build numbers and chase cow family lines.
Stud principal Corey Ireland, Wagga Wagga, opened the sale stating we didn't want to have a sale for culls, but rather offer other breeders an opportunity to get females from the heart of our herd that had real breeding background and performance that buyers could actually see and relate to.
The first sale of Irelands females on farm met strong support as dominate cow lines soared to $25,000 tops, with 49 of 53 females offered averaging $5385 and yearling heifers to at $10,000. Whilst some were passed in during the sale, they were quickly snapped up straight after.
All young heifers sold came with an option of two straws of semen from the 2013 Irelands Angus semen catalogue of the buyers choice, while most cows and two year old heifers came joined to Irelands super sires, Fletcher, Gapsted or Galaxy and new addition Raff Synergy E96.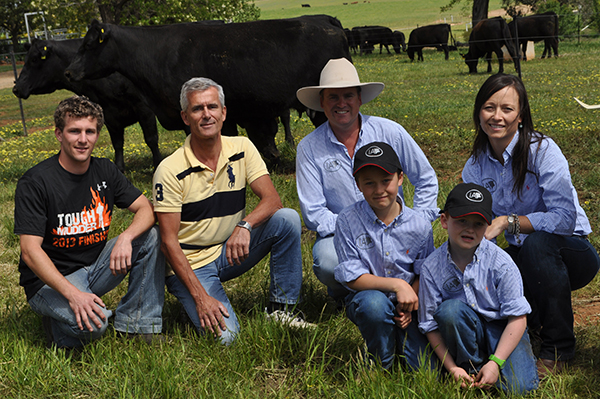 The top cow, Irelands Pleasure C4, just happened to be the Dam of the Australian Record priced Angus bull sold on property Irelands Galaxy for $117,500 in March, by Karoo W109 Direction Z181 out of a Irelands Pleasure A23 female.
She displayed an impeccable record to date with bull calves sold for good money, while her third calf currently on her, will  re-join the Irelands program and she was flushed her and re-joined her to the same mating of that, that produced Irelands Galaxy.
Pleasure C4 was bought by budding Angus enthusiast Henk Van Den Heuvel and his son Michael, Greendale Hill Estates, Greendale on the edge of Sydney for $25,000 a ;long with two mates at $3000 a piece.
Mr Van Den Heuvel said her pedigree, overall genetic package and breeding history was the attraction and he believed she was unsurpassed in the Angus breed and by no means finished as a breeding matron.
"She will be flushed and become a cornerstone female in my establishing herd, she will add diversity to my current cows of which I have three from Irelands already in Pleasure, Nikki and Princess female lines.
Long-time support of the Irelands program and especially the females sold Greg Hughes, Four O Eight Angus, Macksville, made the trip to build up his Eclypta cow numbers as they had done a great job for his in the past.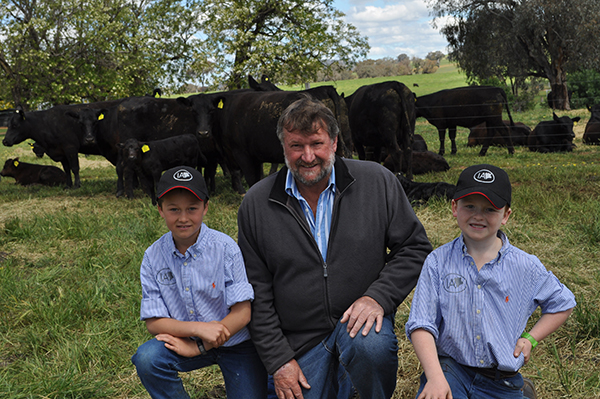 He paid $10,000 for a four year old daughter of BT Right Time, Irelands Eclypta E23, with a bull alf at foot by superstar sire Irelands Galaxy, along with four other Eclypta daughters to average $5700 for his new additions.
James Masson, The Rock Angus, The Rock, is in a building phase at his stud and was looking for diversity in genetics and said the opportunity to access high performing genetics at what turned out to be good prices was what he was looking for.
Mr Masson said he was looking to build his cow numbers and concentrated on females with good Grassfed and CAAB indexes, combined with low birth weights to produce calves they have been directing their marketing towards.
He paid to $6000 for five females averaging $4750.
Fellow Angus stud breeder Stephen Hanbury, Anvil Angus, Alexandra, Victoria, liked the look of the cow families and wanted to share in the stronger ones, securing both Eclypta and Ella daughters to join his program.
Mr Hanbury appreciated the time and effort Corey put into his females and was appreciative of the fact he could go to a female sale where he could see good functional cattle on offer.
Peter Blyth, Fernleigh Angus, Warragul, Vic, has had a long association with the Irelands, with Corey working there in his younger days, establishing their cattle operation.
Mr Blyth paid $10,000 for Irelands Rosebud H330, a stylish and functional unjoined yearling heifer by the $43,000 sire Irelands Fletcher, the first female to be offered by him, was described as long, deep and easy doing from a super cow family.
Mr Blyth said he is interested in the Irelands program and will continue to support him where he can, especially with the amazing cow families he can offer us.
M.P Beef Pty Ltd, Longford, Tasmania, opened the sale strongly with Elders agent Josh Crosby working to order buying three of the top females, including the lead Yearling heifer for $9000, Irelands Wargoona H334, to average $8333.
Bob Daniel, "Waitana", Braidwood, rounded out the best performers on the day paying to $9500 for Irelands Maori Maid E92, in a draft of three averaging $6167.
She was a Rennylea C278 daughter, with strong birth, growth, milk and carcase data, by a Victoree Maori Maid A6 dam, with a bull calf at side by Raff Synergy E96.
The sale was conducted by Elders and Landmark with Kevin Norris and Joe Wilks as Auctioneers.

Irelands Hierarchy to $20,000
By BRETT TINDAL | THE LAND 19 Sept 2013
THE Irelands Angus bull sale screamed value for money last Friday as commercial buyers came to buy bulls and were happy not to compete with studs on the top bulls, as 44 of 51 bulls averaged $4114.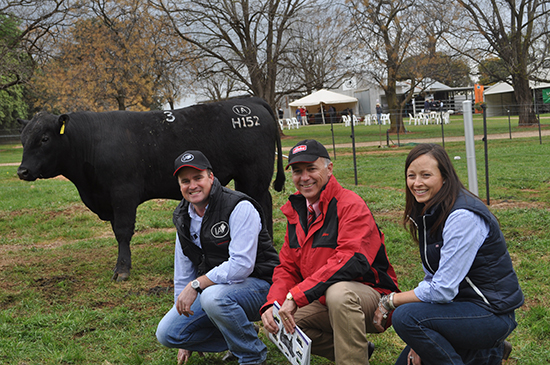 In turn there was not a buyer who did not leave smiling, happy with the bulls they had been able to snap up at a price they wanted to pay and even in some cases, well under the odds.
The average, although back, could be seen as a good result in more ways than one, with buyers getting the chance to take home some good genetics to commercial herds at reasonable prices and also the fact that they were just yearling bulls, that will give buyers an extra years use and more value.
The sale still held it's own with a stylish yearling calf with a great balance of figures that would be envied by many other stud breeders, selling to a $20,000 top to average a modest $4114 for 44 of 51 yearling bulls.
In the wrap up the Ireland family withdrew 14 bulls, to clear the sale of any carriers of current genetic defects, so buyers could buy with confidence and know that all bulls on offer were clear.
The top bull Irelands Hierarchy H152, was bought by long-time client Nick Cobcroft, Highbank Pastoral Company, Young for $20,000.
The April drop son of Rennylea Edmuind E11, created a lot of talk around the industry with estimated breeding values, you could nearly bottle and backed by a strong female line going back to Te Mania Wargoona on the dam side and by a young cow that was a sister to Irelands Fletcher, who sold for $43,000 in March 2012.
Hierarchy weighed 710 kilograms at 16 months, with a moderate birth at +4.6, strong growth of +52 to +114, +104 for mature cow weight, positive carcase data at +7.1 eye muscle area, +2.3 and +2.2 for fats respectively and +3.7 for intra muscular fat percentages.
His raw data matched his EBV's scanning 103 square centimetres, five and five for rib and rump, 6.9 per cent for IMF and 40cm scrotal.
Elders studstock agent Jim Bruce, Albury, bought the bull on behalf Mr Cobcroft, saying his Phenotype and EBV profile exactly matched what the industry was looking for at present.
"He was average for birth weight, had strong growth and positive fats, which is what the industry is looking for," he said.
Mr Bruce said the fact the data was so solid, coming from such a large contemporary group, gave them confidence the data was real and left no doubt  what he could do.
"He was number one for growth, marbling and rib eye and was a bull that could do a lot of good for a lot of people," he said.
The second top priced bull Irelands Grant G110, was a two year old son of Raff Synergy E96 that weighed in at 968 kilograms, with raw data scans of nine and 11 for rib and rump, 8.2 per cent for IMF and 112cm for EMA, sold for $6500.
He was bought by Jim Morgan, "Cooinda", Lockhart, who runs 220 breeders on two separate properties, aiming to sell steers off mum into the saleyards, but likes the flexibility of the Irelands cattle to grow out to feeder steers if required.
Mr Morgan also paid $3000 for a heifer bull that also had size, length and good conformation.
Repeat clients David and Diana Hurley, Hurley Family Partnership, Dargo, Victoria, were thrilled with the result and value for money at the sale, expecting to pay a lot more for the bulls they bought, securing three to $5500, averaging $4333.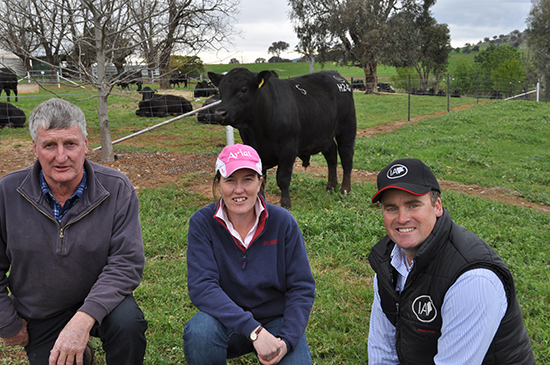 Mr Hurley likes to pick his bulls by eye and said they must have good rear ends on them to catch his eye and good eye appeal as a complete package.
He said the family partnership were running around 800 cows, mainly breeding calves for the Omeo and Bairnsdale weaner sales in the Summer and Autumn, while he was aiming to breed heifers himself.
Gooramadda Pastoral, Alexandra, Vic, paid $6000 for a complete young sire, with outcross New Zealand genetics, displaying food growth and average carcase data.
SR Dalton Farming, Hillston, bought two of the top bulls at very good prices, averaging $4250 for their two, while Rodney Royds, "Karmalea", Braidwood, was able to end his frequent trips to various Angus sales, trying to find his new sire, paying a very affordable $4000 for one of the  standout young sires in the draft.
AL and I Becke, Taradale, paid $4000 apiece for two bulls, while Huntworth stud, Coolac, paid $5000 for a new sire and James Lilburne, Australian Topstock, Wagga, rounded out the sale buying 26 bulls for various clients.
Mr Lilburne bought 18 bulls to go north to clients in Charleville and Quilpy when they get some rain for a $3556 average, while eight bulls averaging $3313 will head north of Burra in South Australia, when they experience their next drop of rain.
The sale was conducted by Landmark and Elders with Kevin Norris and Joe Wilks as the respective auctioneers.


Angus bull sells for record $117,500
Cara Jeffery The Land Online, 22 Mar, 2013 01:47 PM
Irelands Galaxy G43 which sold for a record $117,500 just after 2pm today. Photo: Ben Simpson
UPDATED: Irelands Angus has sold a bull for a whopping $117,500, smashing the breed's Australian auction record.
Irelands Galaxy G43 (AI) – lot two in today's offering of 49 bulls from Irelands Angus at Wagga Wagga – was knocked down to Sam Trovatello's Victorian stud Adameluca Angus, Kyneton.
Bidding for Galaxy – rated by Irelands as one of the best bulls they've bred – started at just $10,000 but took just minutes to roar into six figures.
When auctioneer Kevin Norris finally knocked it down to Adameluca for $117,500, the crowd broke into applause.
Watch the video
The result breaks the extraordinary $110,000 record set by a KO bull last August.
Galaxy was the talk of the crowd pre-sale, with many expecting it to make big dollars.
Irelands collected semen from Galaxy at 11 months with the first calves on the ground due this autumn.
"We used him in the spring with 40 cows and he has just continued to develop into a great sire," the stud noted in the sale catalogue.
It was planning to retain a quarter share semen interest for within herd use only.
The buyer
Buyer Sam Trovatello went to the sale determined to buy Galaxy which he believes will be a powerful stud sire.
Mr Trovatello, who only started his Angus stud last year, runs about 100 stud cows.
He'd expected Galaxy might go for as much as $60,000 or $70,000 but not six figures.
"But as my father says, once you're on the dance floor you've got to dance."
Pushing him to the final figure was underbidder, James Lilburne, Australian Top Stock, Wagga Wagga, operating on behalf of an undisclosed buyer.
In all, 49 of 49 Irelands bulls sold to average $7071.
The bull
By Irelands Deltroit D2 and from Irelands Pleasure C4, Galaxy tipped the scales at 984 kilograms at 23 months with an eye muscle area of 134 square centimetres, scans of 10 and 13 at the rib and rump and an intra-muscular fat figure of 7.4 per cent.
Irelands said his dam, Pleasure – a Karoo W109 Direction Z181 daughter – was "breeding the house down".
Her first son sold to Hicks Pastoral Cootamundra for $12,500 as a yearling and had been leased back by Irelands last autumn to use in its own herd.
22 March 2013 | View selected lot images
Autumn On Property Sale Preview Video

Records smashed as bull makes $117,500
March 27, 2013, 3 p.m – March 27, 2013, 3 p.m. | The Rural Online
A NATIONAL breed record price of $117,500 was set by Wagga vendors Corey and Prue Ireland at their Ireland's Angus on-property sale on Friday.
The couple, who are no strangers for making headlines with top-priced bulls, were delighted with the result.
Ireland's Galaxy beat the record price of $110,000 set by KO Godfather G31 in August 2012.
The rising two-year old bull was secured by the Adameluca Angus stud from Kyneton in Victoria with Irelands Angus retaining quarter semen rights.
Buyer Sam Trovatello proved he wasn't frightened of a bidding battle and selling stalwart, Kevin Norris from Landmark Albury held the rostrum during the historic sale.