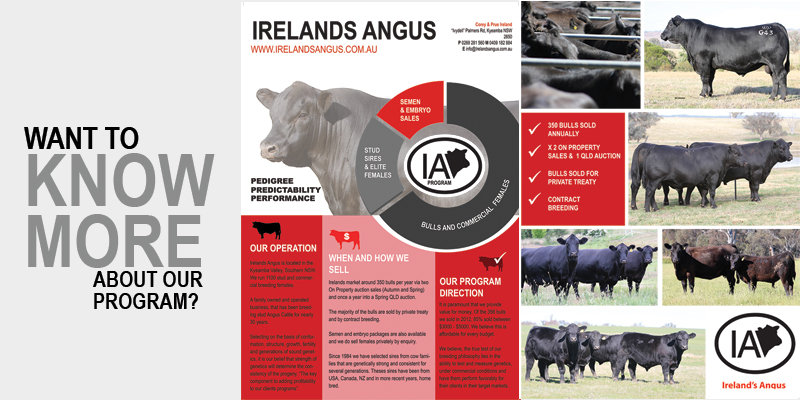 Download Irelands Program Flyer here | 667Kb
Irelands Angus was established in 1984 in West Gippsland, Victoria. The basis of the herd was from imported genetics from NZ. These genetics were worked in conjunction with the famed Kyloh herd. 
Our emphasis has never changed of maternal strength, and weight.
To this end the cow herd was established using big framed solid cows that were sound and could milk. The original cows imported from NZ came out of the Back Track program of Dr Charles Parsons. These genetics were selected from the best in NZ at the time with the same criteria. The line of cows were sired by 3 bulls, Early Sunset Emulous 60E, Massive of Kaharau & Diannas Massive of Karaue. Emulous 60 has been one of the most influential sires of the century. He has marked his progeny with frame, soundness and doing ability.
From this point we have selected sires from cow families that are genetically strong and consistent for several generations. Theses sires have been from USA, Canada, NZ and in more recent years home bred. A sire who had a major impact on our program was Saratoga Quebec imported from Canada by Grant and Jo Watt. Quebec daughters have proven to be so productive, easy doing yet super sound and fertile.
Over the years the cattle have been very successful for our clients, both stud and commercial and through out the show ring across the country. This includes 8 national champions, 3 interbreed champions at Melbourne Royal and champion ships at Melbourne, Sydney, Canberra, Adelaide and Brisbane Royals.
The herd was relocated to "Ivydell" at the top of the Kyeamba Valley, south of Wagga Wagga, NSW in 2004. The move has enabled us to carry around 700 stud females and through extensive embryo transfer programs to maximize desired genetic gain. We are currently selling in excess of 200 bulls annually.
The actual success of the program is reflected by the success of our clients. Each bull sold is monitored and progeny followed up to ensure both performance and client satisfaction is achieved.
BREEDING PHILOSOPHY
Our breeding philosophy is simple. Balance. A balance of key traits – fertility, milking ability, structural soundness, constitution and conformation in conjunction with the use of performance data, since inception, as a selection tool. The family's goal is to produce sound, functional, high performing cattle suited to the environment in which they are required to perform and it is our belief that visual appraisal plays a vital role in balanced selection criteria. We believe the true test of our breeding philosophy lies in the ability to test and measure our genetics, both bulls and females, under commercial conditions and have them perform favourably for our clients in their target markets.
Irelands Angus breeding program is based on cow families that have performed consistently, year in and year out, for the past 30 years. Initially the Eclypta, Ella/Dianna and Nikki families originating in New Zealand and to these we have added other great cow families proven to carry similar powerful female characteristics such as Wilcoola Vicky, Champagne, Dream, Desire, Quiet, Princess, Pleasure and Blackcap. Fertility, calving ease and milking ability are key traits in our female selection criteria and by continually using sires from cow families exhibiting similiar characteristics will provide the genetic stability and consistency we are looking for.
Our herd sires are carefully selected to compliment our breeding program.We continue to use sons of our elite families within the herd.
Irelands Angus sale bulls are selected on the basis of conformation, structure, growth, fertility and generations of sound genetics. It is our belief the strength of the genetics will determine the consistency of the progeny – the key components to add profitability to our clients programs.