Genomix flush tops at $14,000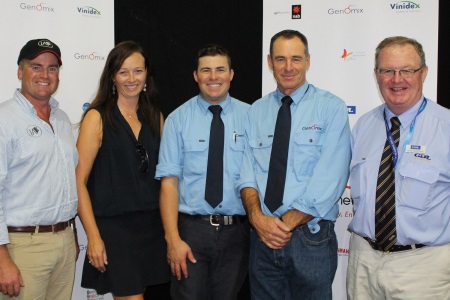 Summary
177 embryos av $934, top $4000 (twice)
16 flushes av $6634, top $14,000
500 semen packages av $84, top $225 (50)
62pc clearance
AUSTRALIA'S first simultaneously live and online multi-vendor, multi-breed genetics auction, the Genomix Beef Genetics Sale, held during Beef 2015 was heralded a success by vendors and sale managers Bruce and Jonny Arkins.
The concept was praised by leading vendor Corey Ireland, Ireland's Angus, Wagga Wagga, NSW, for the sale's innovation and potential moving forward.
"There are excellent opportunities for this concept both domestically and internationally and the Arkins family's Genomix sale have established a great platform to build on and should be congratulated," Mr Ireland said.
"It was a real spectacle and a great crowd who witnessed an exciting new way to market elite beef genetics to local, regional and global markets," he said.
Mr Ireland's faith in the sale was justified after he topped the sale at $14,000 for a pick of the Ireland's Angus herd flush which was bought by South Australian seed stock producer Trent Walker, Keringa Angus, Tintinara.
"We want to accelerate our program through elite genetics and the Ireland's Angus herd is very consistent," Mr Walker said.

LOT INFORMATION – NOW AVAILABLE     Download here | PDF 589 Kb
Irelands Angus will provide a "Pick of the Herd" once in a life time opportunity for bidders at the Genomix Beef Genetics Sale at Beef Australia 2015 in Rockhampton this May.
On offer will be elite female flushings, embryo packages, and semen straw packages from Australia's leading beef seed stock producers. The auction style sale will take place on the eventing of Thursday, May 7th.  Read more information here