Sale Day results
A great result today with full clearance to a top of $16,000 and an average of $7319.
Thank you to all successful buyers and underbidders. Support from our long term clients as well as new was a fantastic encouragement.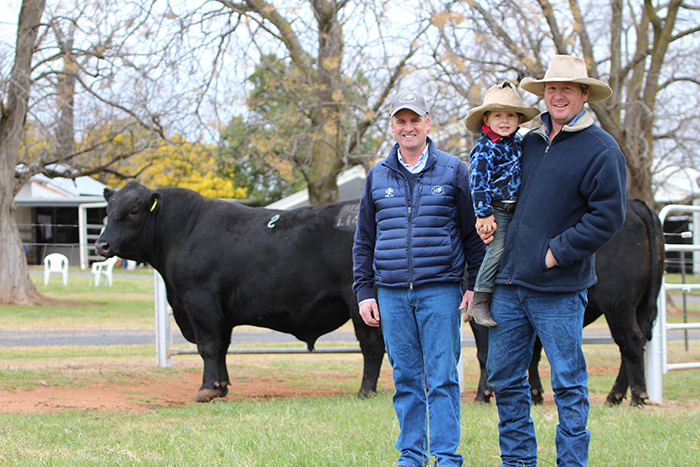 Top price bull Lot 2 Irelands Lourenzo L148, sold to $16,000 to the Lenehan family pictured here with Corey is Bill Lenehan and Son Will.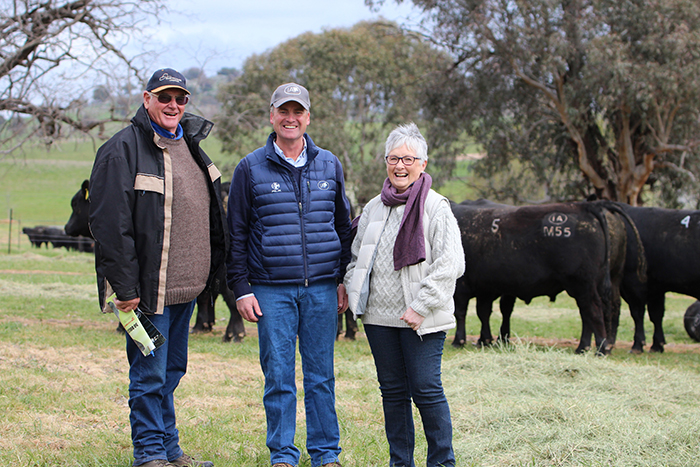 Long term clients John and Nola Ross- Omeo Station, Benambra, VIC. Pictured here with Corey after notching up their 40th bull purchase from Irelands Angus.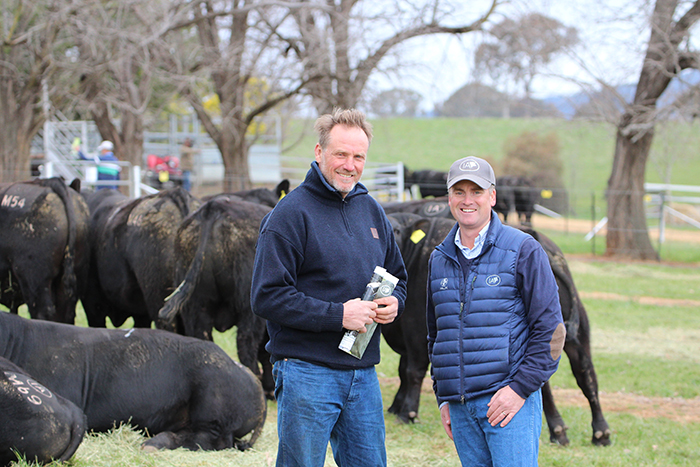 Corey with long term volume buyer Nick Cobcroft – Highbank Young NSW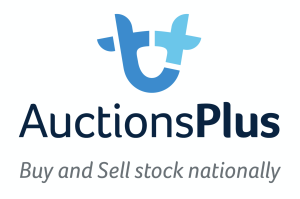 Irelands Angus Spring On-Property Bull Sale – Friday 15 September 2017 – 50 Bulls
Presale video Online Catalogue and Lot Images preview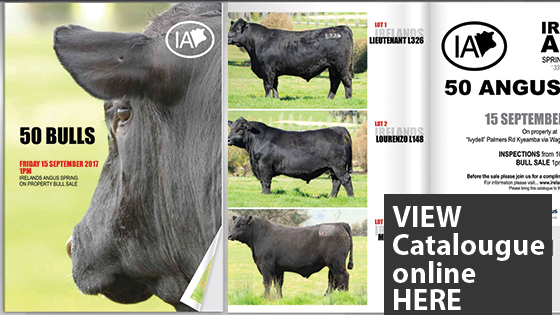 More information, sale catalogue and video coming soon.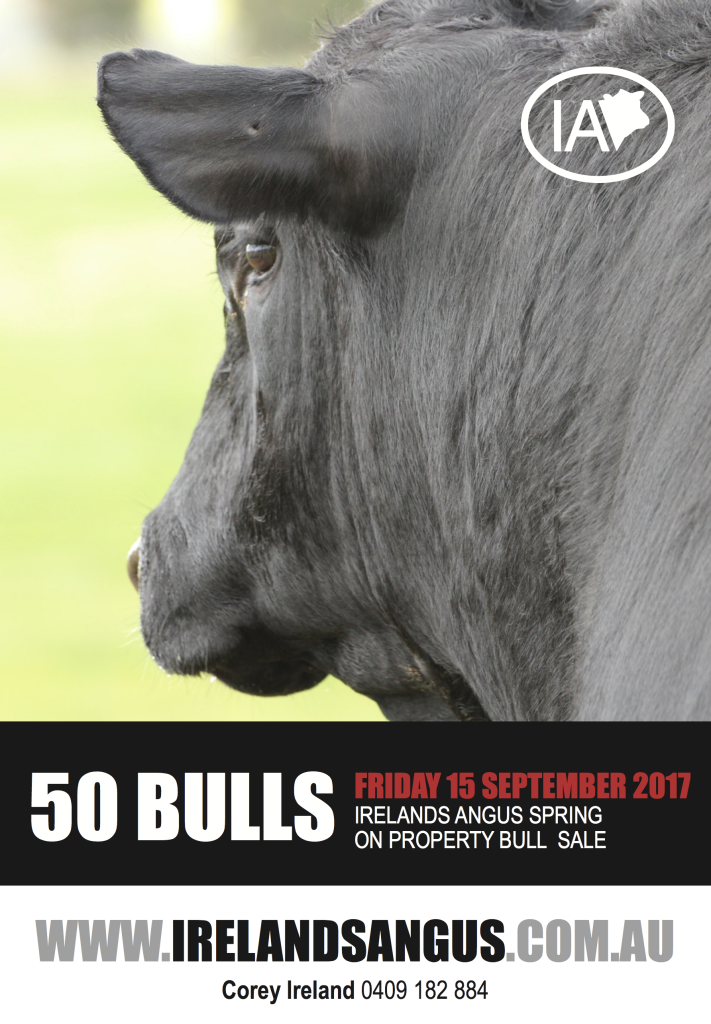 Ireland Angus heifer sells for $29,000
Competitive bidding for new Angus genetics amidst thunder, lightening and a torrential downpour that saturated the Elders team made for an entertaining Sydney Angus Bull and Female sale at the Royal show on Sunday night.
Of the bulls 11 lots were offered and nine sold to an average of $8,220 while 17 heifers averaged $8000.
Six embryo packages sold to an average of $1300 and two lots of semen averaged $150 per straw.
Helma and Henk Van Den Heuvel, Greendale, again showed their interest in Ireland Angus progeny with their top sale purchase of Irelands Eclypta L327, unjoined, for $29,000. Mr Van Den Heuvel said he will use the rare Rawburn Boss Hogg daughter, out of VicB8 Irelands Eclypta B8 to complement his small quality herd with the intention of selling embryos on the international market.
Top bull of the sale, Trowbridge BBB Powertool L1 1 out of CCVB491 Vermont Rosebud B491 by USA16381311 PA Powertool 9108, went for $21,000 to the partnership of good mates David Dance, Dance Angus Glen Innes, and Darryl McCarthy, 'Silverdowns', Tenterfield who will use the bull in his commercial program.
Another Boss Hogg daughter out of an Irelands Vicky sold for $15,000 to Troy Henry, Holbrook.
Greg Hughes, Four-O-Eight Angus, Macksville, purchased the 12 month old heifer Irelands Bunyip M17 by SRKJ302 Bowmont Aberdeen J302 for $10,000.
The Land Online
Jamie Brown
http://www.theland.com.au/story/4586793/angus-heifer-to-29k-at-right-royal-sale/
Irelands average $7200 for 100% clearance
BACKED by thirty-three years of proven breeding the success of beef producers in southern New South Wales and Victoria's high country continue to promote the strength of Irelands Angus genetics.
The Ireland family offered and sold 55 2015-drop bulls at the autumn on-property sale, Book Book, for an average price of $7200 reaching a top of $32000.
Corey Ireland's focus of stacking pedigrees with generations of actual performers is proving successful with numerous clients hitting it out of the park on rock solid Irelands Angus genetics.
Testament to this is Henk and Helma Van Den Heuvel, they established their Greendale Hills Estate, Greendale, a small elite nucleus of Angus females in 2003 on Irelands genetics and returned in 2017 to purchase the top price bull Irelands Locksley L110 a Irelands Hierachy H152 for $32000.
With powerhouse females such as Irelands Pleasure C4 mother of Galaxy G43, full sister to Fletcher F1 Irelands Wagoona H344, and Irelands Vicky E19 daughter of Irelands matron Vicky Z15, the Van Den Heuvel's were looking for the next dimension to add to their dynamic Angus nucleus.
Coming from the mighty Dream cow family that need to introduction to the Angus breed, and sired by H152 who brings calving ease, softness, length and thickness there was no going past L110 for mr Van Den Heuvel.
The second top price of $11000 was reached on three occasions M & H Auchinleek, Towong, Victoria, purchased Irelands Late Cut to Lords L236 a Irelands Four O Eight son.
Irelands Lowe L162 was snapped up by Gippsland prodcuer Shaun Beasley, Lindenow South, Vic, a Hierarchy H152.
While Glengarry Pastoral Trust, "Glengarry", Sandigo, also purchased a Hierarchy H152 son in Irelands Luka L167.
Coleambally producers Panorama Park Family Trust, were the volume buyers purchasing five bulls at a $6100 average.
Alabama Pastoral Company, Book Book secured four bulls to average $7125.
While Brookville Angus, Swifts Creek, Vic, averaged $7000 for their three.
Irelands also offered 350 commercial females with point of calving two year old heifers reaching $1880 and averaging $1669.
Spring Calving PTIC heifers topped at $1510 and averaged $1489, and unjoined heifers reached $1210 with a $1137 average.
The sale was conducted by Landmark and Elders in conjunction with Kevin Norris and Ross Milne the auctioneers.
Nathan O'Sullivan, The Land Newspaper – 
http://www.theland.com.au/story/4540347/irelands-angus-to-32000/?cs=4933
Autumn 2017 SALE RESULTS
Great day today at our Autumn On Property Bull Sale. A huge thank you to all our bidders both online and at the sale.
57/57 bulls sold to average $7087. Top price bull was Lot 22 Irelands Locksley L110, selling for $32,000 to Henk and Helma Van Den Heuvel, Greendale Hills Estate NSW (Pictured below with Corey Ireland).


Irelands long term clients top mountain calf sales for the 3rd year running.
CONGRATULATIONS to long term Irelands clients, John and Nola Ross from Omeo Station, Benambra VIC for topping the Sharpe Fullgrabe Hinnomunji Mountain Calf sale today with the top pen making $1450 for 9-10 month old steers. 
At the Elders Omeo mountain calf sales long term Ireland's clients Jamie and Adele Walker, Mountain Maid with their top pen of steers, 11-12 months making $1530 and top pen of heifers 11 – 12 months, topping the sale at $1600.
2017 Irelands Angus Autumn On Property Sale
Friday 17th March . 12 Noon | 60 Bulls +350 Commercial Females

WATCH OUR PRE-SALE VIDEO!
CATALOGUE OUT NOW!
See catalogue below or open in a new page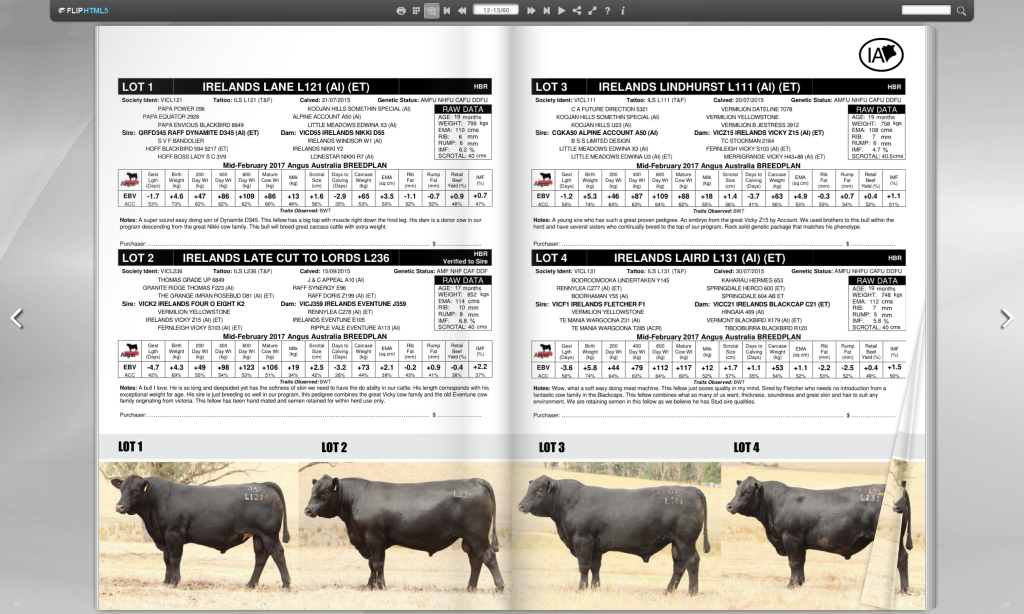 BULL SALE LOT IMAGES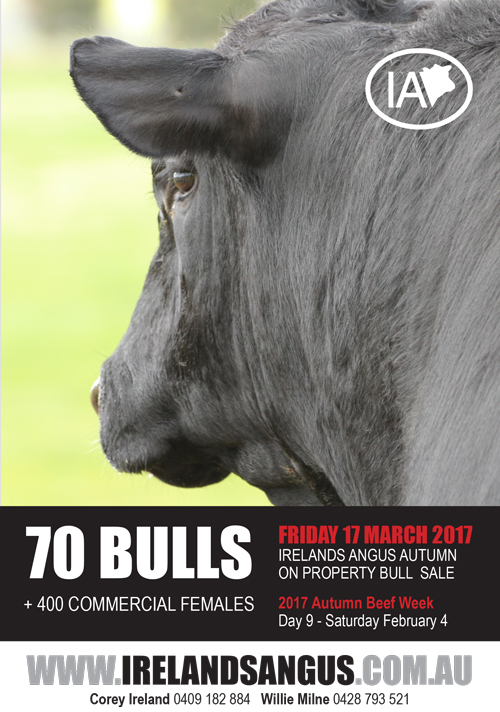 QUALITY COMMERCIAL CATTLE FOR SALE
Our loyal and valued long time client Peter Ryan of Crookwell, is this Friday 3rd of Feb dispersing his high quality commercial herd on Auctions Plus. Peter has always purchased top end bulls to go into his program. The results speak for themselves. Attached is a full listing of the cattle to be offered along with some photographs which include some of his Irelands sires. Don't miss this opportunity to secure top end breeding females with generations of proven performance. We thank Peter very much for his support and wish him the very best for the future. The cattle come highly recommended.
Click here to view females on offer